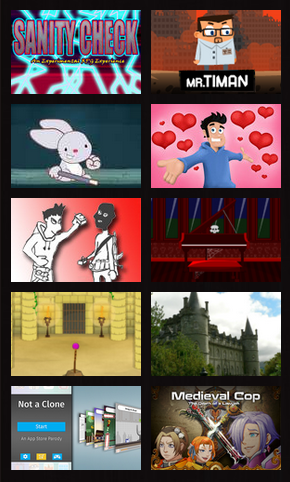 Hope yalls June was as lovely as mine! Did alot of fun stuff including going to a meditation retreat for a weekend. Really cool taking some time off to find your inner peace. Well worth it, definitely do it if you need the calm.
A lot of great stuff this past month. Lets talk about a few of the greats.

Sanity Check: Chapter 1 by @Rocketlex - MAN O MAN, what a game! AND ITS A SERIES!!!! Truly amazing work. Great graphics, storyline, honestly everything. The concept is pretty brillaint, wether youre a gamer or a game developer, it has all the bits that highlight a great RPG. Honestly it was VERY easy to pick it as my number 1 choice for June. Still frontpaged if you havent played, check it out.

Mr. Timan by @Vogd3 -A somewhat simple game but the graphics are really well done and the puzzles are pretty clever. I didnt have a huge issue figuring anything out but the addition of medals made it super fun. Storyline is really interesting too. Kind of hoping for an 2nd episode but we'll see. I believe the developer had stated that he completed the full game in a week and thats impressive as fuck. I could only imagine what he could create with more time and the thought is just mindblowing.

Looping Light Show by @WolveGames - You guys know I favorite maybe 1-2 videos a month since Im mainly a gamer here but this loop was EFFING BRILLIANT. Definitely the best loop Ive ever seen on Newgrounds. I dont even want to explain it, but check it out yourself. It was made for Animation Jam and I will be super shocked if he/she doesnt win because Ive never seen anything like it and its quite genius.  Super cute, gives a great nod to NG which I always appreciate.

Love Chase by @DeathTiger0 - What do I even need to say. The dude pumps out great point-n-clicks every month. The graphics and voice-acting are always on point and well surpass any of his competitors. I feel like a broken record talking about Carmel Games, but I dont mind praising him whenever a game of his pops up here.
NOW IF HE ONLY UPLOADED THEM QUICKER SO I DONT HAVE TO WAIT AND CRY WHEN I SEE A NEW GAME OFF HIS FACEBOOK PAGE AND BE FORCED TO WAIT A WEEK OR MORE TO PLAY IT HERE ON NEWGROUNDS AND GET MEDALS! - THAT WOULD BE NICE! :P <3
Notable Mentions:
@SilverGames @VasantJ @Selfdefiant @OmiyaGames - Great job guys! <3

Gonna be posting an artist request fairly soon, so keep an eye out for that.